Thursday, September 6, 2012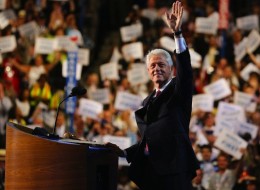 Libs like me have to choose between voting the lesser evil and inviting ourselves to be treated as doormats, or voting for a 3rd party that has no chance to win effectively throwing our vote away.

===============================================
Obama, himself, doesn't believe that and supports voting for third parties over Democrats, even when Democratic turnout is at stake. Some, but not all, examples of Obama supporting third party or Republican candidates over Democrats:
Republican-turned-Independent Arlen Specter over progressive Democrat Joe Sestak in Pennsylvania.
Republican-turned-Independent Lincoln Chaffee over Democrat Frank Caprio (which, in turn, was an effective endorsement of the Republican John Loughlin over Democrat David Cicilline for the congressional seat Democrat Patrick Kennedy retired from, and all of the other seats up for grab in Rhode Island).
Republican-turned-Independent Charlie Crist over liberal Democrat Kendrick Meek in Florida.
Read the Article at HuffingtonPost